Diane Gold
Music control below.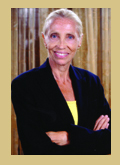 Profile and Credentials
24 years of martial arts training
Rank: Third Degree, Fu-Jow Pai (Tiger Claw Kung Fu), under Sifu Duran
Certified Tai Chi Instructor
Master's Degree in Music Therapy
Chief Operator & Marketing Director of martial arts school, 1996-present
Chief Operator of music school, 1983-1995
Philosophy and Quotes
Be joyous through stillness, and light will come.
Design your life to make your first choices all day, every day.

I wish to set a precedent: making corporate tai chi standard in every business as an elevator in a skyscraper. It is important to me to demonstrate how tai chi improves corporate productivity, loyalty, self-esteem, cooperation, harmony & health.

My other main objective deals with introducing people to the necessity of daily personal development involving tai chi, kung fu or chi kung. The second part of this goal provides the training to make these a reality.